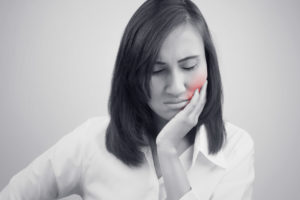 Do you wake up every morning hoping that your toothache has magically disappeared overnight? Even if you cannot see any obvious problems when you look at your mouth in the mirror, you should not ignore what your body is trying to tell you. Tooth pain can be caused by many different factors, including decay, gum disease, impacted wisdom teeth and more. Want to know what may be causing your discomfort? Below is a breakdown of the different types of tooth pain, their causes – and when you should contact your dentist.
Dull Toothache
The persistent toothache you keep hoping will go away on its own may be caused by nerve damage or tooth decay. While over-the-counter painkillers can be effective in delivering temporary relief, you will likely need professional dental treatment eventually. Do not hesitate to consult with your dentist if your symptoms return over the course of several days.
Sensitivity to Heat or Cold
Nothing is more satisfying during these hot summer months than treating yourself to an ice cream cone. However, if you experience a sudden, sharp pain when biting into a cold treat, you may have damaged or infected teeth. Sensitivity to heat or cold can be caused by cavities, receding gums, an abscess, or rough brushing. 
Difficulty Eating
Pain while eating is often a sign of decayed or fractured teeth. While you can try to push through the pain or only chew on one side of your mouth, the smarter move is to get in touch with your dentist to set up a dental exam in the near future. Taking over-the-counter pain medication can provide some temporary relief until your appointment.
Pressure at the Back of the Jaw
If you feel pressure at the back of the jaw, it may mean that your wisdom teeth are growing in at an awkward angle and are pushing against your molars. Impacted wisdom teeth, which usually occur between ages 17 to 25, can cause crowding in the mouth and significant discomfort. Extraction may be recommended to permanently relieve your pain.
Extreme Throbbing Pain
Severe tooth pain is often a clear signal of a dental emergency, so you should waste no time in picking up the phone and calling your dentist. Most emergency dentists provide same-day appointments for unexpected, urgent situations just like these. If your face is swollen, you may have a serious oral infection that requires immediate professional attention.  
When to Take Action
When life is busy, it can be tempting to put off scheduling a dental appointment to deal with your tooth pain. It is often easier to just pop a few more ibuprofen and push through the day, right? However, even if you are just experiencing a mild toothache, you should never hesitate to call your dentist. Neglecting a minor dental issue now can allow it to grow and worsen into a serious problem down the road. If you are currently struggling with a toothache, pick up the phone and call today!
About the Author
With nearly 20 years of experience, Dr. David Salibian knows how to treat any type of tooth pain, from a mild toothache to a serious dental emergency. The proud Tufts University School of Dental Medicine graduate offers same-day care in emergency situations at his conveniently located private practice in Belmont. To learn more about how to prevent toothaches and maintain a healthy smile, visit Dr. Salibian's website or call 617-484-7869.